Your gift will help reach more people for the Kingdom!
Thanks to the partners of the ministry last year we were able to purchase a second tour vehicle. We were able to conduct 30% more tours and reach 25% more people over the year before. And over 90% of our new customers book a tour after hearing about us for the first time.
We can more than double our efforts in 2017 with consistent
placement of ads and promotions for Canyon Ministries.
We have targeted regional and national advertising opportunities as well as partnerships with other like-minded creation ministries to share this incredible story and testament of a young earth and God's Master Plan.
Why Canyon Ministry needs your support
The Lord has placed Canyon Ministries on an amazing journey and we see His blessings on the ministry and its effect on the people with whom we minister. From the beginning, Canyon Ministries has been dedicated to upholding the authority of Scripture from the very first verse and presenting the evidence seen in the Grand Canyon, which supports a young earth. (See our Statement of Faith.)
Canyon Ministries was founded in 1997 to provide Christ-centered rafting trips through the Grand Canyon. We have been selected by Answers in Genesis, as well as several other organizations, to provide their Grand Canyon tours and research trips. Since its inception, Canyon Ministries has shared the Canyon from a Biblical perspective with thousands of guests on trips ranging from 3 to 9 days in length.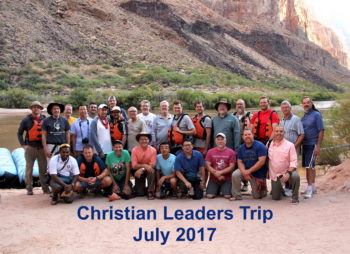 We invite you to be a part of our ministry and hope that you will prayerfully consider joining us in this endeavor. Our greatest need is prayer and we covet your prayers for Canyon Ministries as we continue to minister to His people, equipping them to defend the gospel especially with regard to creation science, and witness to those who need to see the truth of His Word. We believe that the Lord has put us in a unique position to provide opportunities that can change a person's worldview and their life for eternity.
We also invite you to be a part of our ministry through your financial support. In 2006, Canyon Ministries established a non-profit arm to accept corporate and personal donations to support us in our work through tax-deductible donations.*
You may make a secure online donation via PayPal with one of the links above. Canyon Ministries can also accept stock donations, please contact us for details.
Donations to the general fund provide resources necessary to effectively minister to those the Lord brings to us. It can be anything from tires for the bus, insurances, office supplies, or Internet services. And yes, it helps those who work for Canyon Ministries put food on the table.
Since becoming a non-profit organization, the scholarship fund has provided scholarships for many who are in full-time ministry and would not be able to afford an opportunity to experience the Grand Canyon up close and personal on their own. Scholarship recipients have been Sr. Pastors, Youth Pastors, ministry leaders, Christian school teachers, and others who have an influence on the Body of Christ.
As an out-growth of the scholarship fund, in 2008 we offered the first Christian Leaders Trip, where we scholarship an entire trip for influential Christian Leaders. Each year since we have sent 23 men on a "by invitation only" 8-day trip through the canyon with a teaching staff of 4 men, all of whom have over 20 years experience teaching in the area of Biblical creation. For more information on the Christian Leaders Trip, click here.
---
Special Thank You Offer
Renee Yelton, an accomplished photographer who accompanied Canyon Ministries on several trips, has made a very generous offer to provide anyone who contributes $250 or more to Canyon Ministries with a choice of one of her 16″ X 20″ matted pictures. To find out more about Renee, and see the available pictures, click here.
Qualifying donors will be sent a conformation email on how to choose the picture of your choice.
(Click to enlarge the picture.)
To make a donation via mail, simply make your check payable to Canyon Ministries and send it to:
Canyon Ministries
PO Box 50571
Parks, AZ 86018
Being part of the Lord's work is exciting and we welcome your partnership. If you would like to know more about specific needs or have any questions, please contact us at (928) 251-3000.
*Tax-deductible gifts may be made to Canyon Ministries under Section 501(c)(3) of the Internal Revenue Code.