ARE YOU A SCHOOL, CHURCH, OR OTHER GROUP LOOKING FOR A GUIDED GRAND CANYON EXPERIENCE?
We provide discounted large-group tours for churches, schools, and organizations!  On a group tour, our guides will share valuable insight and information about the Grand Canyon and how it fits in relationship to the Genesis accounts of Creation and the Flood.
We've had thousands of people from school and church groups experience the Grand Canyon with us.  Over the years this has been groups as small as 15, all the way to over 100 people at one time!  We are fully capable of handling groups of any size.
If your group is in the area for a while, you might also be interested in a guided tour to other locations in Northern Arizona, such as Sunset Crater Volcano and Wupatki Indian ruins or Petrified Forest National Park.
We're also available for talks and presentations on the Grand Canyon and other areas of creation science and biblical teaching the day before or after your tour.
Let us guide your group on a biblical tour of the Grand Canyon!  The perfect way to engage heart, soul, mind, and strength.
• Biblical creation perspective
• Professional & engaging guides
• Starting at $595 for up to a 4-hour tour
• Two different tour types available
Turn your trip into a multi-day experience, where we guide you through other area attractions—all with a biblical creation perspective.
• Sunset Crater & Wupatki National Monuments
• Petrified Forest National Park
• Biblical Worldview Teaching
• Flat Group Rate As Low As $595
Add additional non-tour teaching times for your group to supplement your trip experience.  Inspirational and educational!
• Available the day before or after your tour
• Biblical apologetics & geology presentations
• Available anywhere in Flagstaff or Williams
• $100 for 1-hour teaching session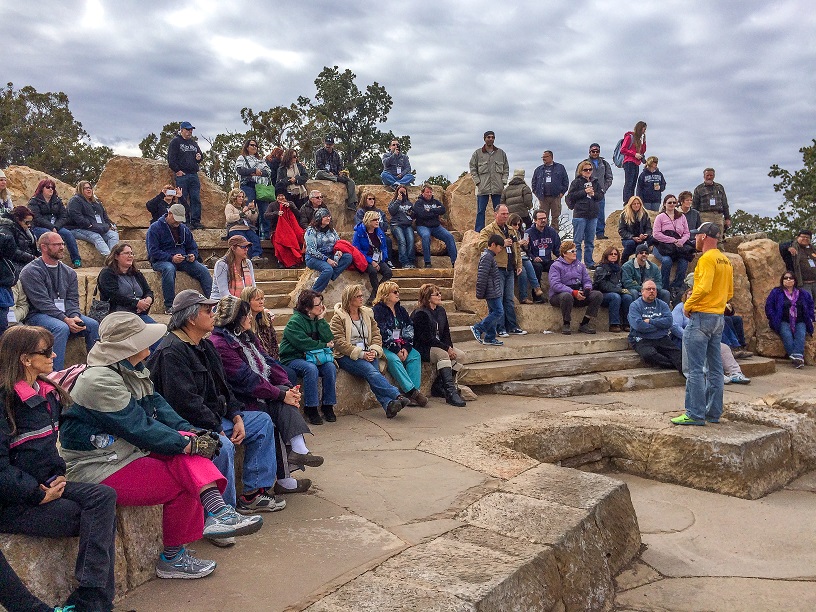 GRAND CANYON GROUP TOURS
Grand Canyon group tours meet in the park, typically at the Grand Canyon Visitor Center unless otherwise arranged. We have two different group tour options.  As they see completely different locations and engage in different ways, your group might even enjoy setting up different tours for multiple days while here.
Option 1: Grand Canyon Vehicle-based Rim Tour
Your guide will meet the group at the Grand Canyon Visitor Center with a short walk to the rim and introductory talk to the Grand Canyon from near the famous Mather Point.  They will then ride along in your vehicle to other various viewpoints, providing both navigation and narration during the drive, as well as teaching at each stop.  Most of the teaching will be done at each overlook location, so even if you have multiple vans, your group won't miss out on any key teaching.
A group tour with vans typically includes 4 to 5 stops from Mather Point to Desert View along Desert View Drive.  Coach bus tours are limited to certain parking areas, but stops often include Mather Point, Grand Canyon Village, and Desert View.  It is the best way to see the most canyon, with great views of the Colorado River, Painted Desert, and dramatically-different vistas at every stop.
Option 2: Grand Canyon Rim Walking Tour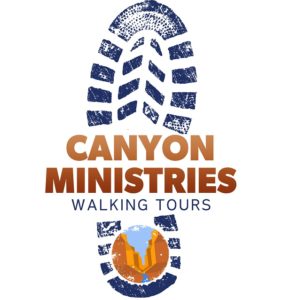 Meeting your guide at the Grand Canyon Visitor Center, your group will start with an introductory talk to the Grand Canyon from near Mather Point.  After that, we embark along the Grand Canyon Rim Trail heading west to Yavapai Point, with stops along the way and teaching about all we see as the canyon unfolds below us.  At Yavapai, we will have views of the Colorado River below, along with the historic Phantom Ranch and Kaibab Suspension Bridge.
From Yavapai, you may choose to continue the Rim Trail heading west along the Trail of Time, or walk back to the Visitor Center and jump in your vehicles for a 5-minute drive to the Grand Canyon Village for more views and another short walk to a rarely visited fossil bed area to find and take pictures of various marine fossils seen here.
Transportation and Park Fees
Groups are responsible for all transportation to the park and during the tour, as well as entry fees into the Grand Canyon National Park.  Check the Grand Canyon Entry Fees page for information on park entry costs.  If you are hiring transportation (such as a coach bus), make sure the transportation company possesses a current Commercial Use Authorization (CUA) permit to enter the park.  The coach driver must present the CUA at the gate upon entry.
---
SUNSET CRATER & WUPATKI TOURS
Let Canyon Ministries guide you through two exciting National Monuments, Sunset Crater Volcano and Wupatki.  These two conjoined parks feature one of the best and most recent volcanic eruptions and lava flows in the southwest, along with stunning Native American Indian ruins from people who built them nearly 1,000 years ago.
The tour includes teaching on the events of Genesis 10-11 and migration of people groups from Babel during the post-Flood Ice Age, as well as the continued shaping of the landscape through volcanic fire erupting from below.  It is the perfect way to continue the "rest of the story" from after the Flood and provide a more complete picture to the landscape of the southwest.
This tour starts and ends in Flagstaff, and includes a short hike through lava field formations and features, followed by exploring ancient ruins and mysteries of a people long ago in recounting how they lived and the stories they told of this land.
Due to starting and ending in Flagstaff, this tour spends up to 6 hours with your guide.  Some multi-day school groups tell us this tour was their favorite day of all!  Be sure to watch the video below to see what Sunset Crater Volcano is all about.
Transportation and Park Fees
Groups are responsible for all transportation to the park and during the tour, and entry fee cost into Sunset Crater/Wupatki (one fee gets you both).  Check the Sunset Crater Entry Fees page for information on Commercial Fee park entry costs.
---
Request your group tour(s) below and confirm as soon as possible

GROUP MULTI-DAY TOUR REQUESTS
Not sure what to do or where to begin?  Interested in a group experience beyond the above standard tours?  Fill our Group Tour Inquiry below and we can help figure out the best solution for your group.  While we aren't travel agents able to set up your entire trip, we can provide suggestions on where to stay and what to do when coming to the area to do tours with us.
---
FLAGSTAFF & GRAND CANYON AREA ATTRACTIONS
Here are a number of other attractions around the Grand Canyon and Flagstaff area you can also take your group:
Walnut Canyon Native American Indian cliff dwelling ruins and a beautiful canyon.
Sunset Crater Volcano Cinder cone and lava fields you can hike through and explore.
Wupatki National Monument Impressive 800-year-old Native American Indian ruins.
Meteor Crater One of the largest and best-preserved meteorite impact sites in the world.
Lowell Observatory 120-year-old observatory and famous for its discovery of Pluto.
Red Mountain Volcano Hike into the inner-workings of a stunning extinct volcano.
Sedona Beautiful red rock formations surround this picturesque top travel destination.
Montezuma Castle & Well Picturesque cliff dwellings and mysterious desert oasis.