A river trip through the Grand Canyon is the experience of a lifetime!  Join Canyon Ministries as we raft the Colorado River and experience God's creation up close and deeply personal.  Trips are 4, 7, and 9 days in total length, and cover either 90 or 187 miles of the Grand Canyon's mighty Colorado River.  See the QUICK LINKS section below for more information on logistics.
We have a fantastic team of interpretive guides specially devoted to providing you with top-notch teaching and a memorable adventure.  Many of our trips also include insightful teaching from various PhDs and trained specialists in geology, astronomy, archaeology, and more.  On all trips, not only do we have a thrilling experience, but we also spend time each day discussing the Grand Canyon in light of both science and Scripture.
During the trip, all the equipment you need to enjoy camping under the stars along the riverbank at night is provided, including comfy cots, bedding, tarps, and tents if needed.  Amazing food is also included.  A packing list of suggested items to bring will be included in your trip information packet.  Click on trip itineraries for details on the variety of trips offered with Canyon Ministries.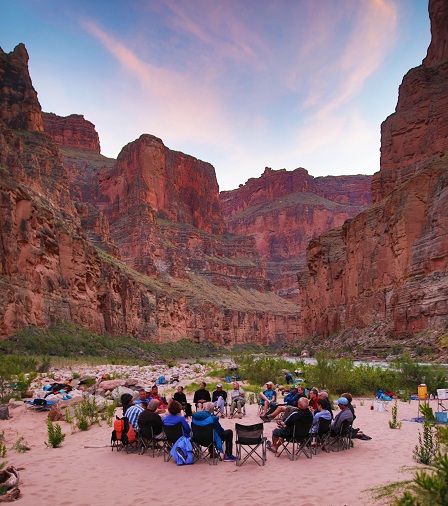 All 4-day lower-river trips start and end in Las Vegas.  For our 7 and 9-day upper-river trips, you can either meet the trip at Marble Canyon, AZ or in Las Vegas, NV, and then return to either location.
Meeting the trip in Las Vegas requires an optional flight to Marble Canyon on the morning of the first day. The cost of the flight is extra and current cost information will be listed on the trip registration page.
The trip price does not include the National Park Entrance Fee of $20 per person age 16 and over, which may be waived if you have a National Park Pass.
Schedule & Reservations
Below are our upcoming trip dates.  Our river trips tend to fill up quite quickly, often more than a year in advance.

Our exclusive outfitter is Arizona River Runners (ARR), providing the logistics of the trip and an outstanding river crew.  When booking a river trip, it will take you to ARR's reservation system to register and pay the deposit. 
If you have any trouble registering, please call Arizona River Runners at 800-477-7238.

Trips tend to sell out quickly, but cancellations do occur.  If a particular trip is already filled, you may join our availability notification list to receive an alert if a trip has openings.
While rare, guides and teaching themes are subject to change due to illness or speaker availability.
2023 TRIPS LIST
| 2023 Date | Days | Cost | Trip Special Feature |
| --- | --- | --- | --- |
| 4/21-4/29 | 9 | $3,585 | Answers in Genesis: In-depth Geology with Dr. Andrew Snelling & Nate Loper |
| 5/13-5/16 | 4 | $1,875 | Stargazer Special with Nate Loper |
| 5/25-5/28 | 4 | $1,875 | Focus on the Family charter trip with Doug Birnie & Nate Loper. |
| 6/9-6/12 | 4 | $1,875 | Stargazer Special with Nate Loper |
| 6/19-6/25 | 7 | $3,450 | Answers in Genesis: Geology by Day, Astronomy by Night with Dr. Danny Faulkner & Adam Huff |
| 7/2-7/10 | 9 | — | Christian Leaders Trip with Dr. Mortenson, Dr. Snelling, Dr. Whitmore, & Dr. Lyon |
| 8/4-8/10 | 7 | $3,450 | Answers in Genesis, In-depth Geology with Dr. John Whitmore & Nate Loper |
| 8/12-8/15 | 4 | $1,875 | Answers in Genesis: Apologetics with Bryan Osborne & Adam Huff |
| 8/19-8/22 | 4 | $1,875 | Biblical Studies: Genesis 1 to 11 with Dr. Bill Barrick & Nate Loper |