FULL-DAY TRIPLE PARK TOUR
THE ULTIMATE IN CREATION GEOLOGY, ARCHAEOLOGY, AND HISTORY!
BY REQUEST ONLY.
AVAILABILITY CONFIRMATION AFTER BOOKING REQUEST.
The 11-hour Triple Park Tour runs on Saturdays and includes a full day of adventure seeing the very best of the Grand Canyon National Park, ancient Native American Indian ruins at Wupatki National Monument, and guided exploration through the lava fields and explosive landscape of Sunset Crater Volcano National Monument.
Departing Flagstaff, Arizona, the morning begins with a scenic drive to the Grand Canyon, where we will learn about the events of Creation and the Flood with geology teaching at some of the best overlooks on the South Rim, followed by a lunch stop at Desert View.  You may bring a sack lunch with you, or purchase items from the Desert View Market.
Leaving the Grand Canyon, we will drop down into the lands of the Navajo Nation, with stunning views of the Little Colorado River Gorge, Painted Desert, and sagebrush grasslands dotted with volcanic peaks.
After that, get ready for the rest of the story in Wupatki National Monument, as we continue talking about the events of Genesis 10–11 and migration from Babel to the Americas, while exploring ancient ruins nearly 1,000 years old!
At Sunset Crater, we will explore lava flows and volcanoes while discussing the post-Flood Ice Age, as well as delving into the mountain-building activity seen in Northern Arizona and around the world.  After Sunset Crater, we return back to Flagstaff to conclude the day.
Due to the unique nature and time required to run, this tour is by request only.  After you create a reservation request, we will try to confirm availability within 24 hours. If we can do the tour that day, we will process your payment and you will receive a confirmation email with your tour details.  If we are unable to run the tour that day, you will receive a follow-up email from us with information about other dates or tour types that may be open.
Groups of 5 or more may request a day other than Saturday by contacting our office.
Price includes entry fees to all 3 parks and bottled water.  Does not include lunch, which you may buy in the park or bring with you.
Child, youth, & senior discounts.
Additional discounts for groups!
Use promo code SAVE5 and save 5% on 4 or more paid people
Use promo code SAVE10 and save 10% on 6 or more paid people
Use promo code SAVE15 and save 15% on 8 or more paid people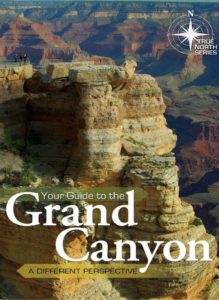 When you book, be sure to add this 190-page full-color biblical guide to the Grand Canyon for a more complete view of this landscape and a reminder of the places we visited on our tour.
This hardback, spiral-bound, full-color guide to the Grand Canyon explores its geology, fossils, ecology, and history from a biblical perspective.
Featuring multiple three-page foldouts with panoramic photos for each of the major overlooks along both the South and North Rims and a spiral-bound lay-flat design to help you as you go through it, this book will be brought by your guide and given to you at the start of your tour.
We also have additional guidebooks for Zion and Bryce National Parks, as well as Yellowstone and Grand Teton.  All 3 guide books may be added to your tour, or ordered ahead of time from our online store if you need them beforehand.
INTERACTIVE 3D MAP OF TOUR ROUTE
Departure/Return Location

Flagstaff, AZ

Departure Time

7:00 AM

Included

Blankets

Bottled Water

Hand Sanitizer

Umbrellas

Not Included
Itinerary
7:00 AM Depart DoubleTree Hotel in Flagstaff
Tour Grand Canyon South Rim
Lunch Stop at Desert View (Cost of lunch not included)
Historic Cameron Trading Post (Optional)
Lomaki Native American Indian Ruins
Wupatki Native American Indian Ruins
Sunset Crater Volcano & Lava Flow Trail
6:00 PM Arrive back in Flagstaff